What is Carbon Accounting or Carbon Emission Footprint?
A measurement and details of an organisation's greenhouse gas emission based on their tasks and activities over a defined period of time. The product is made up of a Carbon Inventory, holding data collected, and a full Carbon Inventory Report interpreting the Carbon Inventory.
The Purpose of Carbon Accounting
The Carbon Inventory and Report deliver a management tool:
• To increase knowledge and skills in respect to risk management
• Managing emissions
• Meeting compliance requirements
• Overseeing the effects of future price increases on energy and resources
• Showcasing opportunities waiting to be explored in terms of efficiencies and conservation
• Supply chain tools to meet emission reporting requirements from current and future customers
Data included in the Carbon Inventory
The Carbon Inventory group direct and indirect emission sources into three data categories: Scope 1, 2 and 3.
Scope 1:     All direct greenhouse gas emissions
Scope 2:     Indirect greenhouse gas emissions from consumption of purchased electricity, heat or steam
Scope 3:     Other indirect emissions from other sources, relating to the tasks and activities of the reporting entity.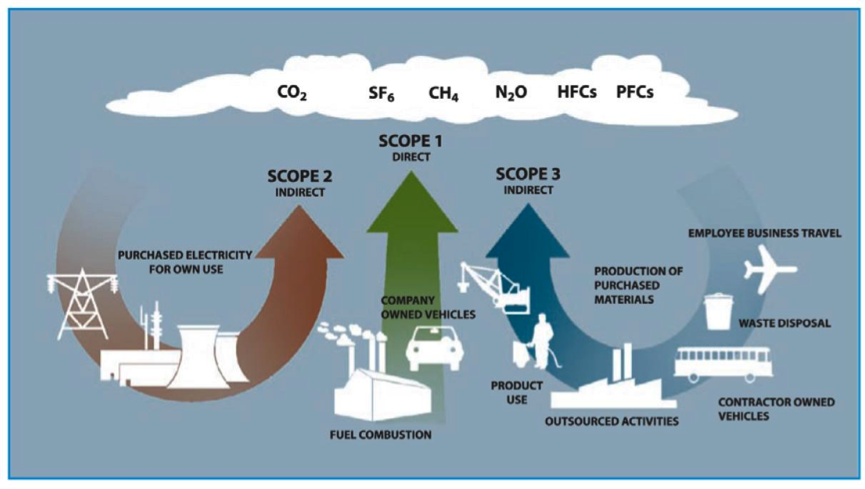 The Carbon Inventory, which displays the data collected and calculated emission is established in accordance with standards from The Greenhouse Gas Protocol and emission data is calculated using the latest Australian version of the National Greenhouse Accounts Factors (published by the Department of Environment).
Example of a Carbon Inventory Report, Summary Table.


Emission sources such as taxi fares, catering, and staff commuting can also be included in the carbon inventory report. An energy and resource audit assists in surfacing emission sources.
Please click here for global survey on Carbon Accounting.